Agent Spotlight: Tamara Thompson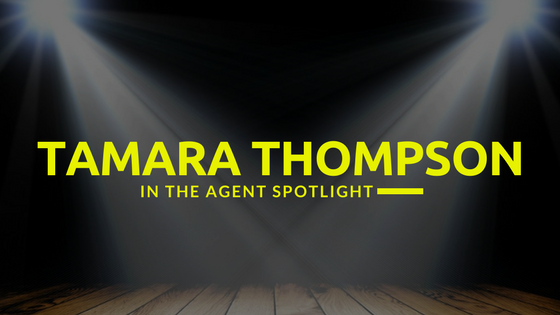 When it comes to quality and knowledge, the agents at Greg Garrett Realty can't be beat. In our Agent Spotlight series, get to know our agents at they share their experiences in the Hampton Roads real estate market and some of their best advice on reaching the top.
This month, we sat down with Tamara Thompson..
Where were you born? Nassawadox, VA (Eastern Shore)
How long have you been in real estate? 9 months

What do you like best about working in real estate? Why did you become a Realtor? I like the hunt, and the excitement of finding "the house". I always wanted my license and since I'm a stay-at-home-mom (daycare was too costly to return to a 9-5), it was a perfect opportunity.

What is your favorite thing about working with home buyers? Their excitement. It's contagious and makes you want to hunt down that perfect home for them.

What do you do in your spare time? Ha! Most days I hope I can eat my own food.

Tell me about your family. Our little family includes my husband and my son. He's 18 months old, and the most adventurous part of my day. We're lucky both sets of parents are here to see him grow up.

What are you most thankful for? Waking up every day to my husband every day. He makes such huge sacrifices as a LEO, every day is special.

Did you attend college? Where? What is your major? I attended Old Dominion University, majored in Communications, and have 28 credits to finish a Bachelor's Degree. One day. One Day I will finish it.

What is your favorite restaurant in Hampton Roads? Sweet Frog. Original Tart Frozen Yogurt.

Do you have any pets? No. The kid is enough trouble, you want me to add a dog? (Probably will.)

If you could have lunch with anyone from history, who would it be and why? I don't know. I always thought I'd know who, but History has it's demons too. What if they don't like me?

What is the best advice you've ever been given? When people show you their true colors, believe them.

What motivates you? My son. That dude looks at me like I make the world go 'round. I want him to have things, but to be able to want and work for them. A happy medium. Explore but come home too.

What kind of music do you like? Favorite song or album?
All kinds. My best friend is a walking, talking, swearing jukebox.

What are some small things that make your day better? Nap time. I get a little quiet, and get a lot of marketing done. I can also clean for the next round of messes.

What is your favorite TV show? NCIS. I love Gibbs.

Who is your role model? I can't pick one. I've had the privilege of meeting so many amazing women; they all have a quality I want to strengthen in myself.

What is your super power? Being a Mommy. Nothing prepares you for it, and no two days repeat.

What would be your ideal way to spend the weekend? On an outing with my family. No laundry to do, the house is clean, dinner is already done. (Kids won't be kids by the time this happens.)

What could you give a 40 minute presentation on with absolutely no preparation? Zero preparation? No materials? Planning a Wedding.

What is something you think everyone should do at least once in their lives? Spend an entire day without a cell phone or laptop BY CHOICE, and actually experience life.

What are you most looking forward to in the next 10 years in your career? The financial freedom, and the Disney vacation.

What's the best way to start the day? I don't know about best, I'm usually smacked awake, or getting my head sat on. Co-sleeping, you know. Not for the faint of heart.

What movie title best describes your life? Cheaper by the Dozen. We don't have 12 kids, but this one gives us a good run for it.

What is your favorite thing about Hampton Roads?
Everything. It's home to such a diverse population and culture you can experience without really leaving. Greek Festival, Blackbeard Festival, etc.

What are you most likely to become famous for? Something to do with my kid. We're attached at the hip.

What would be the title of your autobiography? Who's Your Mommy? LOL

What makes you different from other agents? I don't hide my personal life from my buyers. I let them know upfront I have a family, and sometimes I'm unreachable. Unreachable doesn't mean they're not important – I just need to unplug from the Buyer so that I can always be on top of things.
Tamara can be reached at (757) 234-1254 or tthompson@ggrva.com.